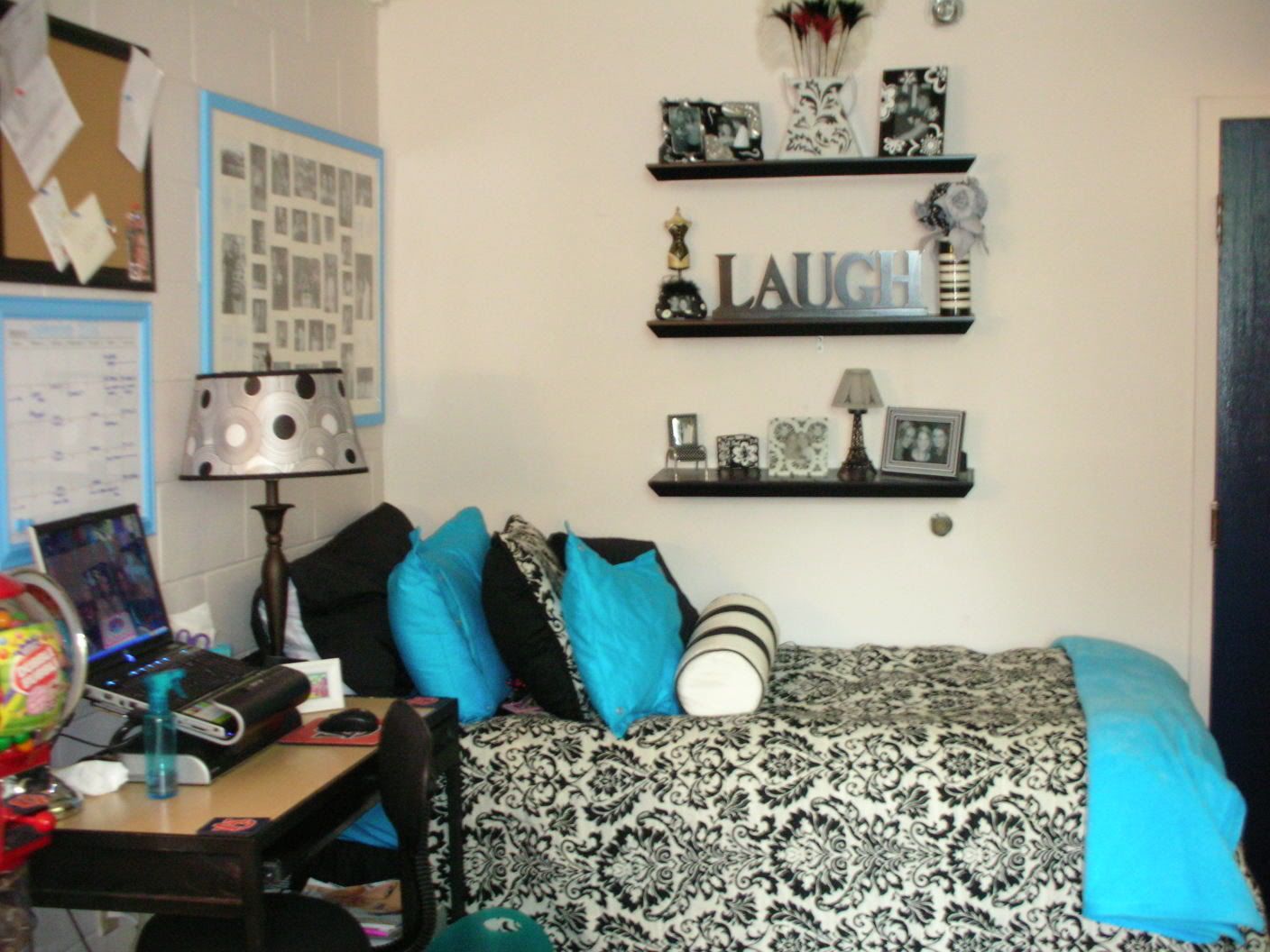 (The above and below dorm are images that I found on Photobucket...
so unfortunately I do not know how to properly credit the source. If the
images belong to you or you know who the original source is, please
let me know so that I may properly credit them on my blog. Thanks.)
Color & Pattern: The decorator of this dorm stuck to three colors... mostly black and white, with punches of light blue. I absolutely love the pattern of the bedding. There's something about any damask print that draws me to it. The major aspects of the room (bedding, pillows, desk, etc.) all stick to the color scheme... but so do the minor accessories! Did you notice that the squirt bottle and tissue box on the desk are also that pretty teal-ish blue color? Several silver-tinted accessories bring in a bit of sheen.

Storage: There are parts of this room that are not seen, such as the closet and other areas where clutter often tends to gather. But from what I can tell, it's quite organized. Organized enough that the boarder can have a few shelves filled with decorative accessories, picture frames, and sentimental objects. The desk is quite tidy. And there's plenty of bulletin board and dry erase territory to post/jot notes and reminders.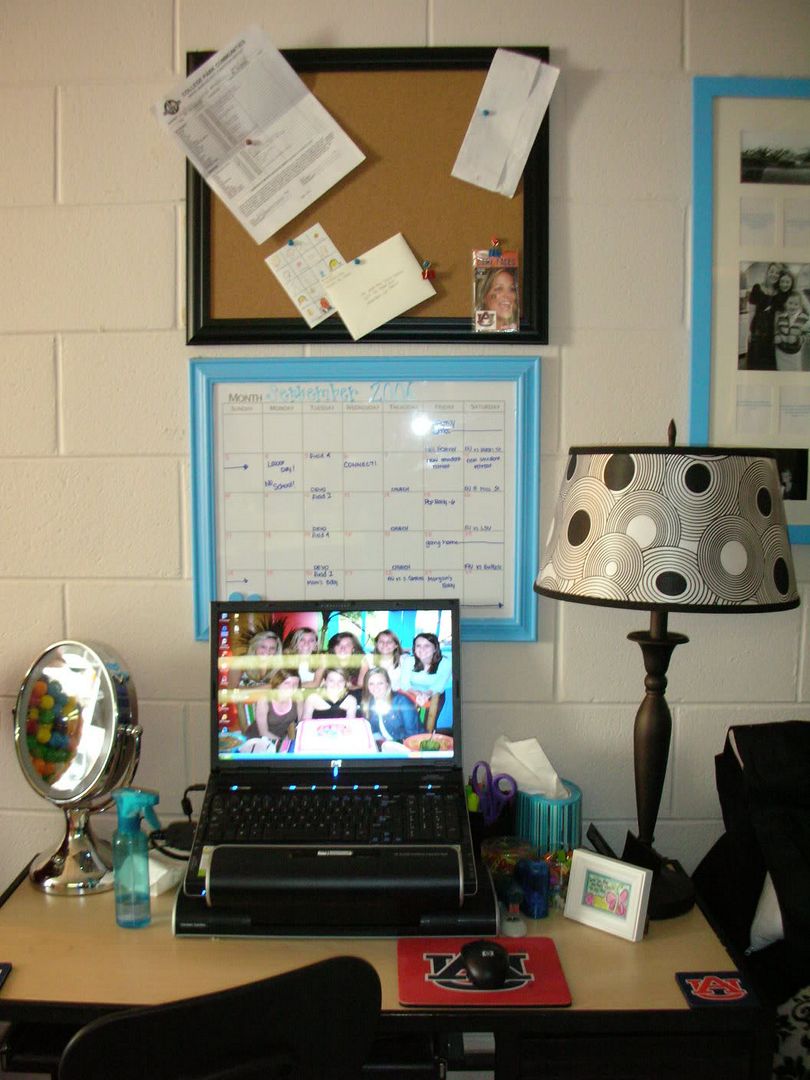 Seating: I can't really talk about the seating in this room because I only found so many photos. There may or may not be ample seating here. I like to imagine that there's a sleek black futon dressed up with blue or damask-printed throw pillows. If not... I hope she doesn't mind having people plop down on her bed.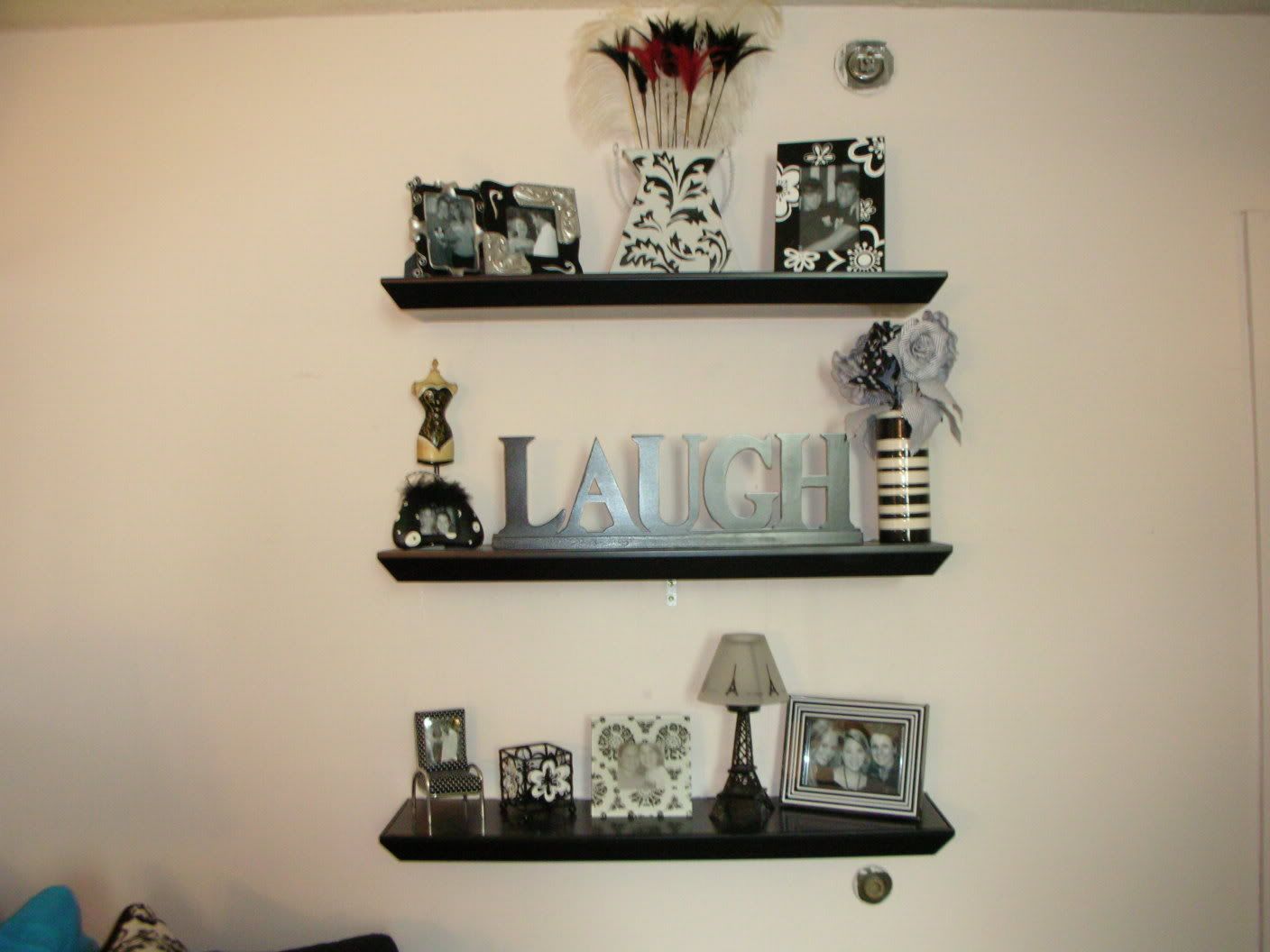 Decor: This dorm room definitely has a theme going on. The girl who decorated it let her personality shine through without letting the room get lost in her personality. There are lots of pretty little accessories all around... fancy photo frames, French-inspired objects such as that tiny Eiffel Tower lamp, the LAUGH letters, and a vase with flowers. By keeping with simple color choices, she was able to bring in lots of objects that help to make a dorm feel more like a home.

Check out these must-haves to inspire a similar space:

♥Amore