It's June! ...Which means that the Iowa State University room assignments were available for viewing at midnight. And, well, you know me... I waited up 'til midnight just so I could see where I would be spending next fall. My first choice was a single in Buchanan... with my own bedroom and sharing a bathroom with the dorm next door. (I know, I know... singles are limited, but I thought it was worth a shot to put it as my first choice.) My second choice was my own bedroom in an on-campus apartment suite.
Well... I ended up with my third choice and I'm not quite sure how I feel about it. So at 12:40 in the morning, I'm going to attempt to sort out the good points and bad points about this room assignment.
The Good:
My room is a "super single". This means I get it all to myself. This is important to me because I savor privacy. I enjoy being social, but only when I want to. Since I do a lot of reading and writing, alone time is a top priority. Plus... I don't concentrate on homework very well unless I'm completely alone.
My room is at the end of the hallway. (Read below to find out why this is a good thing.)

I get an actual closet instead of one of those stand-alone wardrobe/armoire things that colleges pass off as closets. (Due to the layout of the dorm building, only the two end rooms on each floor get an actual closet.)
A little ways off from the main campus. Instead of being surrounded by buildings, this dorm actually offers prettier views.

Fitness center in the building. Maybe I could get the motivation to work out?

Dining hall in the building. I will be getting a meal plan... so it'd be nice to be able to eat meals in the same building I live in rather than trek across campus.
Laundry facility in the building. Always a plus.
Like most dorms I know of... it comes furnished with a bed, desk, desk chair, dresser, and wardrobe (or, in my case, closet). But the added bonus is that these rooms also come with a mini-fridge and futon. Hopefully I could get rid of the futon, since I have my own fabulous orange convertible sofa to bring. Having a mini fridge provided would be great... one less thing for me to buy this summer.
The bed is not lofted. Hooray! This is good because I'm a frequent sleep-walker and my mom worries about me trying to climb out of a loft in my sleep. Haha.

From the photos I've seen, the rooms look pretty decent. I don't think I'd have a hard time decorating. And they're a good size, which means I can fit more stuff from home. ;)

No air conditioning. Ugh. Central Iowa can get quite hot and humid in the late summer and stay that way into the autumn. I think I could get by as long as they allow me to open the windows for fresh air. And maybe it'll be an excuse to purchase a fabulous bright-colored fan like this one since I won't need to buy a mini-fridge.
A little ways from the main campus. While I wouldn't be surrounded by buildings, I wouldn't be as close to my classes. I think it's still within walking distance, but I might miss being in the center of it all.
The Ugly:
Communal bathrooms. Oh dear. :S In my last dorm I was lucky enough to live in suite-style units where my roomie and I shared the bathroom with our two suite-mates. I've never actually seen or used a communal bathroom, but my imagination is running wild with the horrors of it. I'm not so much concerned with the cleanliness. The bathrooms are cleaned daily by janitorial staff. And I can handle showering with flip-flops on. But I'm not too sure about the whole showering and going to the bathroom in one big room with tons of others thing. I dislike public bathrooms enough. Now I'll have to walk all the way down the hallway if I have to the bathroom in the middle of the night. And what if someone opens the curtain while I'm showering?! Eeek!
Well, my good list definitely outweighs the bad and the ugly. So it seems like no contest, right? Wrong. I'm hung up on my bad list because the communal bathrooms and lack of a/c has me a little worried. Those are major issues for me... second and third to the most important thing: I want my own room. So if I have to put up with sharing a bathroom with the whole floor and sweating it out a few sultry evenings in order to have the privacy and luxury of a single... I may just have to settle. We'll see.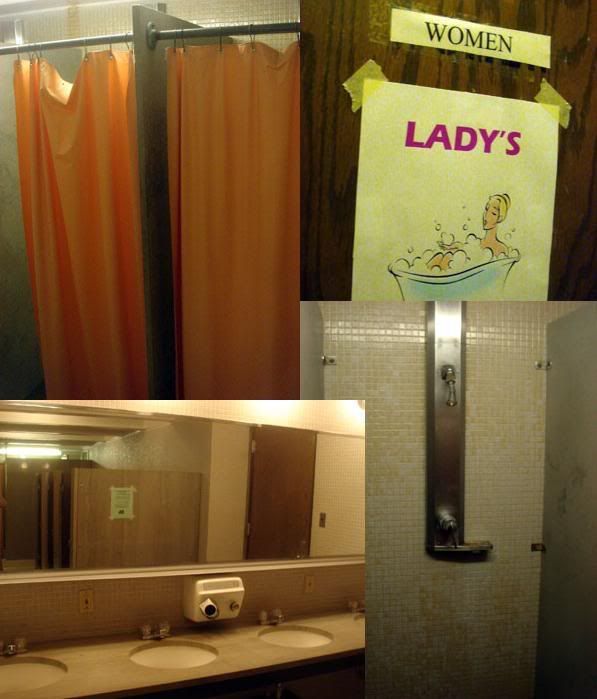 While I'm liking the idea of not having a bathroom to clean...
I'm apprehensive about sharing the space. Will someone open
the curtain while I'm showering? Is that sink area large enough
for girls bustling around doing their hair, putting on make-up,
and brushing their teeth in the morning?
(images from
rabbit_teeth
)
Since I wouldn't be needing to spend money
on a mini-fridge, I could put the cash toward a
pretty fan to keep cool without an a/c. The
ones above
are from
The Company Store
.
This is the
orange sofa bed
that I've already purchased for my
dorm room. I love the vibrant color and how it has three positions.
I'm crossing my fingers that the dorm will let me switch out the
provided futon for my own. (Mine came from
Target
, btw.)
If I wish to switch to another residence assignment, I can opt to do so in a few days. I'm betting, however, that my first two choices filled up fast with students continuing from last year. (Continuing students got first dibs.) It comes down to me deciding whether I want my own room and putting up with communal showers and no a/c... or sharing a dorm with a roommate and getting a semi-private bathroom and cooler quarters.
♥Amore.