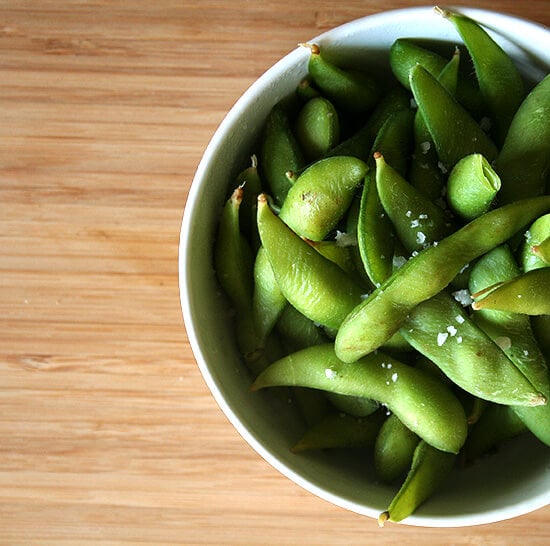 So Tuesday night a girlfriend and I went out to a Japanese Steakhouse for sushi and martini night. I've just recently discovered my fondness for sushi. (Who knew?!) But my friend introduced me to something that I now can't get enough of.
Edamame!
Edamame is basically immature soybeans still in the pod. The pods are boiled and salted. You squeeze the pod and the tasty little bean pops into your mouth. It's heaven.
After eating edamame as our appetizer before sushi, I was completely addicted. But where would I get edamame? My friend had searched the various grocery stores in town to no avail. I woke up this morning with an insatiable craving for more edamame. So I decided to hit up the Asian Food Markets in my town. The first one was a win.
The edamame comes frozen in a bag---and only $1.50 per bag!! I was so excited that I couldn't stop smiling at the Asian cashier who probably wondered what the crazy American girl was so happy about. Then I hurried home to make my edamame.
First, Boil some water. When the water is boiling, throw in some salt and some Sichuan pepper if you have it on hand---I had it on hand because my roomie is Chinese and she suggested I add it. ;) Add in as many soybean pods as you want. Let 'em boil for a good 5-8 minutes so that the beans inside are tender. Drain off the water, toss 'em in a bowl, and liberally sprinkle on the sea salt. Start eating! They can be served hot or after they've cooled down.
I know this sounds too easy to be true---but that's why I'm so psyched about. The best part? Edamame beans are rich in carbohydrates, protein, dietary fiber, omega fatty acids, and micro-nutrients like folic acid, manganese, and vitamin K. They're a yummy snack with a nutritious punch!
Next time you're out at an Asian restaurant, request some edamame as your appetizer. Or make it at home! Mine really turned out just as good as the ones I ate at the restaurant. (: