In case you've wondered where I've been...
I've been in bed. Plagued with tonsilitis. Fairly miserable.
Slurping soup. Eating expensive ice cream direct from the carton. Drinking ginger ale.
And watching sooo many period films.
Friday: Tristan + Isolde, Atonement
Saturday: The Other Boleyn Girl, Marie Antoinette, the entire 2nd season of HBO's Rome
Sunday: Elizabeth, The Duchess, Vanity Fair, Love in the time of Cholera
I'm feeling better now! But here's my rundown of my film binge:
Tristan + Isolde
is always a favorite. Why? Because James Franco is a hunk. And he is thee absolute best in this movie. His curly hair, smoldering eyes, love it! What I don't love is how sad this movie is. I scorn myself every time I watch it because I end up sobbing.
Atonement
makes me cry, too. Almost much as as
Tristan.
I reeeeally want a green gown like Cecilia's.
And yet another tearjerker with
The Other Boleyn Girl
. So much drama. So much sexy Henry VIII.
Okay, who am I kidding? I think historical movies in general make me cry---especially
Marie Antoinette.
This is my second favorite movie of all time (coming second only to
Gone with the Wind
!) The costumes, the interiors, the beautiful Rose Byrne, the music! And after watching this movie probably 100 times, I just noticed a random pair of Converse tennis shoes in one scene! So random and so Sofia Coppola!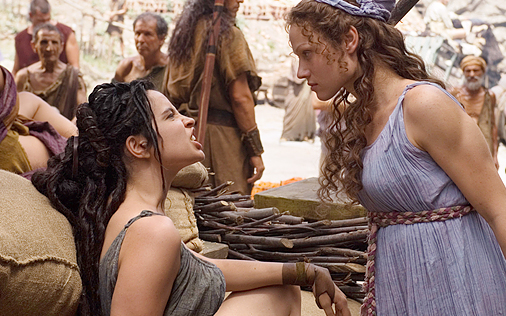 Rome
is my guilty, guilty pleasure. I guess I can only tolerate blood and violence when the men are in Roman attire. And Marc Antony, how I love your roguish ways! Yes, I watched the entire 2nd season in one day. Oy.
Elizabeth
... It's ok. I think I like it mostly for the costumes. At least I didn't cry!
Ahhh, The Duchess. Back to crying. But mostly swooning over the breathtaking scenery and interiors and costumes. Keira Knightly is amazing in this movie. It's one of my all-time favorites. It's a real heartbreaker, but it's a beautiful film and I highly recommend it!
I'd never seen
Vanity Fair
, so I gave it a try. It was ok. Pretty costumes. But not a riveting movie.
And I finished up with
Love in the Time of Cholera.
I'd tried reading the book once, but couldn't get into it. The movie wasn't what I expected, but it was good. Not great, but good.