I'm sure many of you can join in on me with this: Gossip Girl is one of my favorite guilty pleasures. (It's like the
only show
I actually
tweet
about while watching!) So I was delighted when several of you lovely readers requested that I feature some GG-inspired decor boards. Let's kick off with Serena!
Upper East Side "It" girl Serena has it all: super model looks, a closet full of designer fashion, lotsa money, and a posh pad to top it all off. As lavish as her bedroom could be, Serena's sense of decor style is refreshingly low key. While the room is full of expensive goods, there's no frill or frou-frou in sight. Her design taste is fuss-free luxury. A sleek, modern credenza stands in place of a dresser. Strewn across its top are sundry girly items: glass bottles, cosmetics, framed pictures, candles. A tall table lamp lights up the wallpaper's spherical flowers, which mimic the headboard's spots. A big print of a close-up, glittery eye hangs above the console.
Creamy neutrals and vintage patterns like damask give the room a classy, refined theme while gilt metallics and unexpected polka dots give the space a youthful kick. The lower half of the wall behind Serena's bed is an over-sized, statement-making headboard. Upholstered in an ivory and gold spotted fabric, the pattern is both classic and playful. Glitzy pillows add shimmer to the sleeping space. Ornate side tables flank the bed, accented with "barely there" glass ghost lamps. To the left, a curvy settee upholstered in teal and gold damask puts on elegant airs. At the foot of the bed, a minimalist bench keeps track of a young woman's favorite things: shoes and magazines.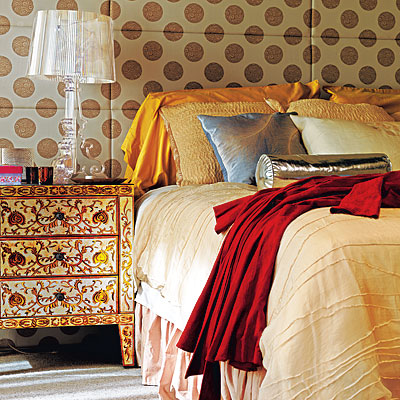 Here's a close-up look at one of Serena's gorgeous bedside tables. The elaborate gold-on-ivory carving is oh-so-very Versailles. The transparent glass lamp disappears into the polka dot backdrop.
Dying for Serena's effortlessly chic balance of glamor and youth? Here's a Lovely Undergrad take on the space...
Theme:
Stick to a mostly neutral color scheme, focusing on creamy ivory and decadent vanilla shades. Use the off-whites all over the room, especially on large surfaces: walls, bedding, curtains. Pale gold curtain panels are ideal. Add a bit of subdued color by using light blue and/or turquoise throughout the room, like Serena did with her lamp and settee. I also threw in this ivory and light blue rug because its dahlia polka dots would be a perfect stand in for Serena's headboard and/or wallpaper. Since you probably won't be able to put up wallpaper in your apartment or dorm, I came up with a creative solution for a backdrop similar to Serena's wallpaper by hanging
gold dahlia placemats
all over the wall.
Bed: A simple upholstered headboard will most closely resemble Serena's. If you have the time, money, and resources at your disposal, have it upholstered in a fabric similar to her metallic polka dots. Dress the bed in whites and beiges, adding sequined pillows for that perfect pinch of sparkle. (I love these gold spotted pillows since they're so reminiscent of Serena's headboard!) When it comes to the nightstands, the overall idea is more important than finding exact replicas of those ornate side tables. I went with a spindly, gold-legged, glass-topped side table. Accessorize it with your favorite magazines, a metallic picture frame, and a lamp with a clear glass base. At the foot of the bed, place a simple bench with clean lines. Tuck shoes underneath; stack fashion magazines and books on top.
Etc. Furniture:
For a sleek credenza like Serena's, check out anywhere from antique stores to Goodwill for Mid-Century Modern consoles and buffets. Prop the top with a turquoise-based lamp, eclectic glass bottles, and picture frames. Then, hang up a fashion-y print as art. While Serena's antique settee is to-die-for, it'd be a rare beauty to track down and take up valuable space in college dwellings. Instead, find a chair with the same feminine feel. Personally, I'd go with a Louis ghost chair because 1) the transparency echoes the glass lamps on Serena's nightstands, and 2) I have an unhealthy obsession with
Louis ghost chairs
.
What do you think? I don't know about you, but I'm all ready to move into Serena's ultra luxurious space!
___________________________________________________________________
Disclaimer: I'm neither the the set designer nor in touch with the set designer for these television and movie rooms. Unfortunately, I do not know the sources for most of the decor, furniture, etc. These inspiration boards and posts are meant to show a similar look and help guide you in shopping for items that will help you get there. If you really want to know the source of a specific item (for example, where a pair of curtains can be purchased), feel free to leave your question in the comments. If I knew, it would definitely be listed in the post. However, maybe another The Lovely Side reader out there will know!
___________________________________________________________________